Hemp Seed Face Oil 50ml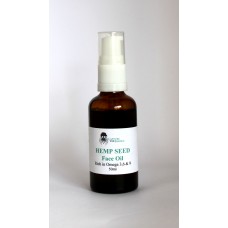 Product Code:
FO50-can
Availability:
In Stock
Price: AU$20.00

Hemp Seed Face Oil
Hemp seed oil is 80% essential fatty acid, the highest amount of any other plant. This oil contains Omega 3, 6 & 9 which are important in preventing heart disease and promoting heart health, these acids are also helpful in the alleviation of the symptoms of skin conditions like acne, psoriasis and eczema. Hemp oil also contains Vitamin E and is the only plant to contain Vitamin D, which is necessary for calcium absorbsion.
Hemp Seed Oil is fantastic for eliminating skin lesions and blotches that may occur as a result of excessively dry skin. It won't clog your pores like many other oils, you can safely use hemp oil to moisturize your face without greasy build up, because Hemp Seed Oil closely matches our own skin lipids, it is able to penetrate our cells and lubricate the surfaces between them making it an excellent anti-aging oil.
Hemp Seed Oil is also a natural sunblock which helps the skin avoid diseases related to over-exposure to the sun. In addition to this it contains ant-inflammatory agents and antioxident properties this makes Hemp seed Oil helpful in detoxifying and ceansing the skin, evening out the skin tone.
Adapt this oil to your skins requirements, because Hemp Seed Oil soakes straight into the skin if you have very dry skin you may want to add Apricot Kernel Oil or Macadamia Nut Oil to your Hemp Seed Oil.
A couple of drops of Lavender Oil will help fight acne and black heads.
Natural Exfoliating Scrub
Oily Skin
1 tablespoon Hemp Seed Oil
1 egg white
2 tablespoons sea salt
Dry Skin
1 tablespoon Hemp Seed Oil
1 egg yolk
2 tablespoons sugar
Gently rub into the skin in a circular motion then rinse of with warm water. Using the all natural hemp facial scrub will renew and regenerate fresh skin cells.
Write a review
Your Name:
Your Review:
Note: HTML is not translated!
Rating:
Bad
Good
Enter the code in the box below: