Bentonite Clay 350gm
Product Code:
Bentonite 350
Availability:
In Stock
Price: AU$20.00

BENTONITE CLAY
Bentonite, also referred to as Montmorillonite, is one of the most effective and powerful healing clays. It has a very fine, velveteen feel and is odorless and non-staining. The type of bentonite offered by us is a high quality Sodium Bentonite from Australia.
Bentonite Clay is a unique clay due to its ability to produce an "electrical charge" when hydrated. Upon contact with fluid, its electrical components change, giving it the ability to absorb toxins. Bentonite is known for its ability to absorb and remove toxins, heavy metals, impurities, and chemicals.
Bentonite also helps get oxygen to cells as it pulls excess hydrogen and allows the cells to replace it with oxygen instead.
Bentonite clay is a common ingredient in detox and cleansing products. It has an alkalizing effect on the body. Bentonite Clay is useful in;
Externally for all types of skin problems and to speed healing, helping with skin and allergy issues, to help provide minerals for the body, to help speed recovery from vomiting and diarrhea, detoxificati\on & oral health to name a few.
Check out our Receipe tab for easy Bentonite clay uses from masks to toothpaste, an easy face mask is listed below. Activated Charcoal in this reciepe can be replaced with tumeric for an energizing face mask
Face Mask
Ingredients:
1 Teaspoon Bentonite Clay
1 Teaspoon Baking Soda
1 Teaspoon of Activated Charcoal
How to use:
This is the perfect amount for one face. Use a wooden spoon for your clay or it will deactivate! Stir together, and add several drops of water to create a paste. Apply to a dry face. Let the mask dry/harden, and keep it on for 15 minutes. You can keep it on longer, but if you have sensitive skin best to stick to the 15 mins Wash off with water and pat dry and follow with a very light application of coconut oil. This will help moisturize while providing an antibacterial layer of protection to those newly opened pores.
Your face will be pink; because, the clay increases blood flow.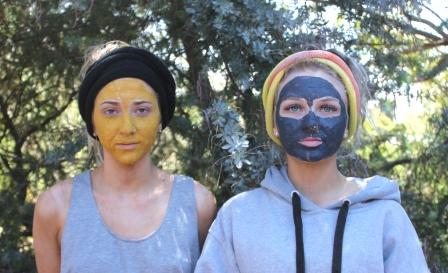 Write a review
Your Name:
Your Review:
Note: HTML is not translated!
Rating:
Bad
Good
Enter the code in the box below: