Macadamia Nut Face Oil 50ml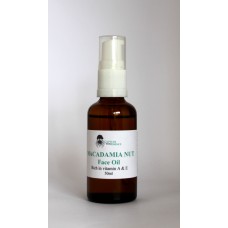 Product Code:
FO50-mac
Availability:
In Stock
Price: AU$18.00

Macadamia Nut Face and body oil
Macadamia Nut oil contains the highest levels of Palmitoleic Acid than any other plant oil. Palmitoleic Acid has many anti ageing properties, some of which have been found to slow the rate at which our skin matures.
Naturally high in vitamin A and E which are well known for their ability to heal and regenerate the skin.
Macadamia Nut oil is also great to apply as an after sun skin care, adding much needed hydration to minor sun burnt skin.
Macadamia Nut Oil is the perfect answer to natural, organic skin care, with frequent use this light non greasy oil can soften, moisturise and repair all skin types.
Hair Hydration
Macadamia Nut oil is great to add much needed hydration to dry heat treated frizzy hair. Simply add a couple of drops to your finger tips and apply to the ends of your hair, then make your way up to the top of your head.
Leave it in over night for an intense hair treatment that will improve the over all condition of your hair and encourage hair growth.
Nails
Macadamia Nut oil will help improve the condition of your nails and cuticles. A small amount of macadamia nut oil warmed in the microwave, and rubbed around the base of the finger nail can soften and moisturise the cuticles preventing damage.
This will not only improve the condition of the cuticles but will also result in stronger, healthier nails.
Face Mask
Macadamia and Honey Face Mask
1 egg yolk
1 tablespoon of natural yogurt
1 tablespoon organic honey
1/4 cup oatmeal
1/2 teaspoon macadamia nut oil
2 drops of your prefered Essential Oil
Place the honey into a glass bowl and microwave until it liquefies (warm in 10 second bursts we don't want the honey too hot just warm), slowly whisk in the egg yolk.
Add the macadamia nut oil to the oatmeal and yogurt, then add to the honey mixture mix gently then add your prefered Essential Oil. Stir until smooth and creamy.
Clense your face and then dampen with a hot face cloth to open your pores. Generously apply your face mask to your face (avoiding your eye area) now put your feet up and relax to some light umwinding music for 10-15 minutes.
Use cold water to remove the mask, use a small amount of macadamia nut oil to moisturize your face.
Ratio for massage oil (Standard for most oils)
| | | |
| --- | --- | --- |
| AGE | CARRIER OIL | ESSENTIAL OIL |
| 65yrs+ | 20ml | 5 Drops |
| 12-65 | 20ml | 10 Drops |
| 6-12 | 20ml | 7 Drops |
| 4-6 | 20ml | 5 Drops |
| 1-4 | 20ml | 2 Drops |
| under 1 | 20ml | 1 Drop |
| Pregnant | 20ml | 1 Drop |
General Safety
Info Do not take any essential oil internally. Do not apply undiluted essential oil onto the skin. Seek advice from a qualified aromatherapy practitioner if you have liver damage, cancer are epileptic, or have any other medical condition. Seek advice from a qualified aromatherapy practitioner if you are pregnant or before using oils on children. A skin patch test before using any using any oil or blend is recommended. Do not put essential oil near your eyes or mucus membranes. If you happen to get pure essential oil on your skin, apply a vegetable oil to the area first to dilute the oil. Water will only make the oil penetrate the skin quicker. Vegetable oil can be any of your carrier oils or even cooking oil. Discontinue use if any skin irritation occurs. We are not medical professionals please seek advice from your qualified medical healthcare practitioner.
Write a review
Your Name:
Your Review:
Note: HTML is not translated!
Rating:
Bad
Good
Enter the code in the box below: